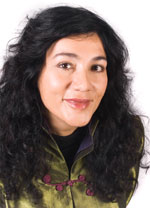 Dr Yvette Ahmad is a registered Clinical Psychologist with over 20 years of clinical and academic experience.  She is a Director of the Starfish Clinic – and her base is currently in Whangarei. Yvette has extensive experience working with both children and adults with various degrees of mental health issues.
Yvette's approach in her initial consult with you is to find a methodology or style that best fits your needs.  She is committed and passionate to find a solution for the individual's problems.  Where children are concerned she often works with the family to help the child.
Yvette is trained in multiple modes of practice, which covers cognitive behavioural therapy, narrative, sand tray symbol work, art therapy dream work, mindfulness, EMDR and family therapy.
Her areas of expertise include mild to moderate depression, anxiety, obsessive compulsive disorder, post traumatic stress disorder, childhood difficulties, Attention Deficit Disorder, eating disorders in children and adults, Aspergers and High functioning Autism.  Yvette also gives supervision to other professionals.
Yvette also works with less common conditions such as gender identity issues and selective mutism. She also conducts intellectual assessments that address possible cognitive difficulties in certain areas of functioning.
Yvette is also the creator of award winning application – MyFriendQuest, designed to teach children to recognise and respond appropriately to emotions.  Originally created for children with Asperger's or high functioning autism, this application has achieved great results with a wide variety of kids who don't pick these skills up as naturally as their peers.
Please take note of the following:
Yvette unfortunately does not deal with high-risk clients such as severe depression, suicidality or psychosis.
Cancellation Policy:
Where less than 24 hours notice of cancellation is given (by text, phone, email or voice message), the full cost of the session will be charged to the client.
Session times are for 55 minutes from the booked starting time.  Unfortunately if you are late arriving for any reason,  the session cannot run later than the booked time.
Save
Save